Andy Goldsworthy was born in England in 1956. As an internationally famous artist, his works are integrated into the collections of most of the big international contemporary art museums.
Andy Goldsworthy is heir to Land Art. Nature is at the heart of his work, as much in the choice of materials he works with (stone, snow, leaves, flowers, etc.) as in the acceptance of the ephemeral nature of the works he creates.
Andy Goldsworthy's work cannot however be reduced to the "naturalness" of the materials used and the natural processes which go through them.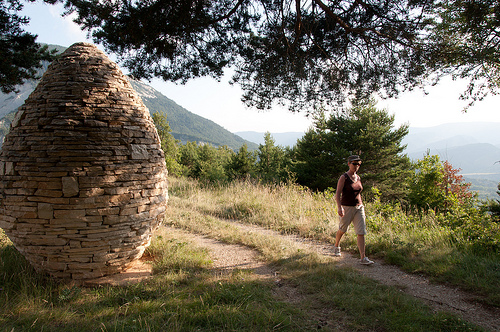 Andy Goldsworthy in Digne-les-Bains
"My work is so firmly anchored to the spot that it cannot be separated from its place of creation: the work is the place". To consider the "nature of the place" is also to consider its history.
"The strata of geological time, that of human time and natural time" are the keys to understanding the works that Andy Goldsworthy created specifically for the territory of Digne, around Digne-les-Bains.
Even though he has been invited to create works all over the world, Andy Goldsworthy has become attached to the land of Digne which is now his "laboratory in the South".
Refuge d'Art
Far from being just one project among many others, Refuge d'Art occupies a special place in his work: "This is a life-project and it is for this reason that I do not uphold the statement: we will build so many houses. This will be my most important work but it will remain unfinished".
Since 1995, three Sentinelles and the seven Refuges have been created; others are to follow which will combine in a singular manner contemporary art (Land Art), hiking and the protection of the rural heritage.
Find out more