The Lac d'Allos is the biggest natural high-mountain lake in Europe. You will be amazed by the beauty of the unspoiled natural surroundings, the silence and calm at over 2,200 metres in the Mercantour National Park.
You can easily spot a wide variety of wildlife all year round.
Après vous être garés au parking du Laus, vous n'aurez plus qu'à attraper votre sac à dos rempli de bonnes choses (eau, pique-nique, barre chocolatée pour la pause, etc.) et vous voilà en route vers le lac d'Allos.
Une balade de 45 minutes environ conduit à une découverte extraordinaire : la vue du lac que l'on domine.
After having parked on the Parking du Laus, grab your rucksack filled with good things (water, picnic, chocolate bar for your break, etc.) and off you go to the lac d'Allos.
A 45-minute walk takes you to an incredible view of the lake below.
A change of scene
The wide-open spaces, the very pure blue sky, the blend of colours, the grey mountains around the lake reflected in the deep blue water,the green mountain pastures and larch trees…
The effect is instantaneous and you are left speechless!
As you walk around the lake, you will be amazed by the butterflies flitting among the many-coloured flowers.
Can you hear the wind in the treetops or a marmot's whistle? Look up a little and you may be lucky enough to see griffon vultures which have flown up from the Verdon.
Look even further towards Mont Pelat and you may see a herd of chamois with their white necks and slim horns. And over there, ibex! They're easy to recognize with their curved horns – the horns of the males can be as long as 1 metre.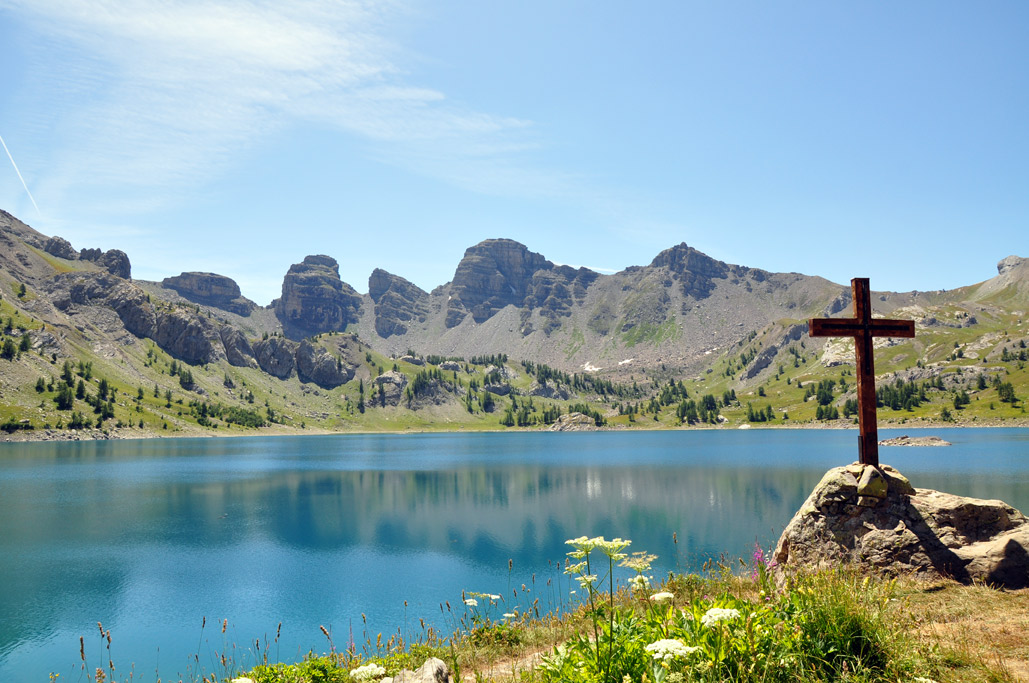 After this lovely hike filled with emotions in this little corner of paradise, you can stop for a moment's contemplation at the Chapel of Notre-Dame des Monts or continue to gaze at the lake while you eat a blueberry pie and drink a hot chocolate on the terrace of the refuge.
The friendly welcoming team is there from mid-June to mid-September.
And you could even spend the night there next time? A good opportunity to watch the sun go down and gaze at the star-filled sky.
An idea – for other hikes from the refuge: the Col de l'Encombrette, the loop of the Lausson lakes, the petite Cayolle, etc.
The more courageous will be tempted by the 3,000 metre climb up Mont Pelat, the highest point in the Haut-Verdon with an exceptional 360° view over the Alps.