The FFC of the Verdon et des Vallées de l'Asse area has 20 circuits starting from 4 towns: Castellane, Saint-André-les-Alpes, Barrême and Tartonne.
The allow you to cover the territory of the Communauté de Communes Alpes Provence Verdon, from the Montagne du Cheval Blanc and the Pic de Couard in the north to the entrance to the Gorges du Verdon in the south.
All mountain bikers will find something here among the 20 loops for all levels developed on a linear total of more than 300 km.
The length of the circuits ranges from 3 km for the easiest to 52 km for the longest (average 17km) and the profiles can reach a positive elevation of 1,700 m. Several loops also follow portions of the Trans Verdon and the Chemins du Soleil.
260 km of circuits (total length)
20 routes including:

2 "very easy", for a family ride on hybrid bikes (green) in Castellane and Saint-André-les-Alpes;
5 "easy", along which inexperienced riders can discover for example remarkable heritage elements such as the salt water well in Tartonne or go for a swim in the Lake of Castillon;
9 "difficult", including one technical downhill run in the Chalvet sector in Saint-André-les-Alpes which will necessitate a good handling technique to take more than 70 hairpin bends without putting your foot on the ground, or a superb single track in a shady beech wood on the route to Barrême from the top of the Montagne de Lièye;
4 "very difficult", including the Pas de la Faye on the Barre des Dourbes, starting in Tartonne, a portion followed by the Terres Noires race, and the ride around the whole of the lake of Castillon which can be done from Castellane or Saint-André-les-Alpes.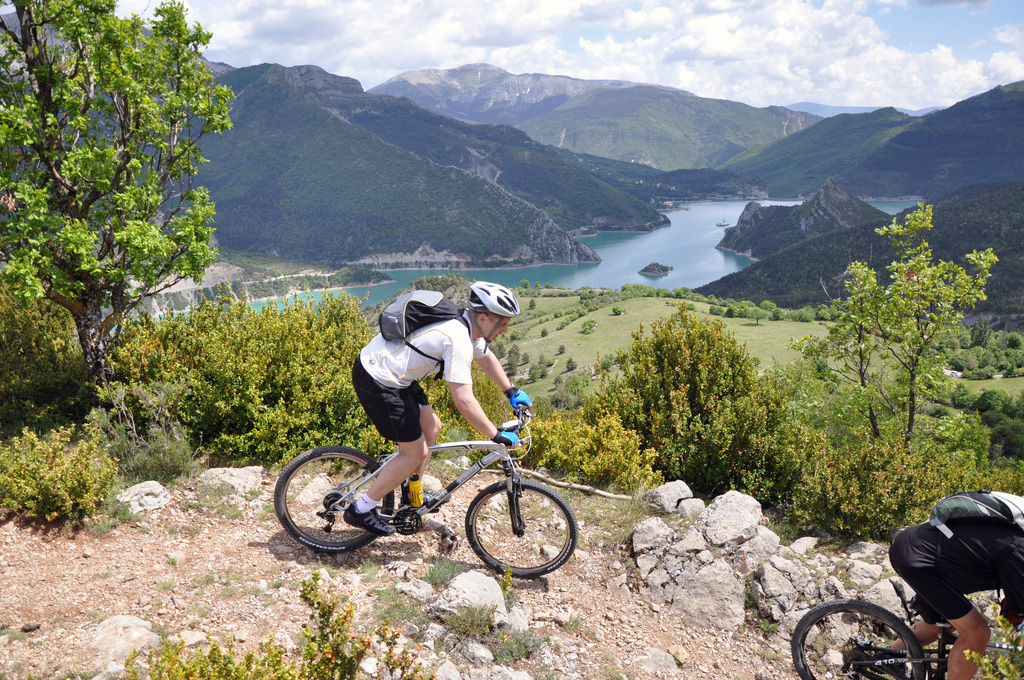 Services
Map and topo-guide
Mountain bike rental
Cycle shop
Repairs/Maintenance
Accommodation
Guides
Washing
Initiation
Brochure
Brochure FFC Verdon et des Vallées de l'Asse mountain biking area
Brochure to download
Tourist office: www.saintandrelesalpes-verdontourisme.com