The Alpes de Haute-Provence is ideal for different aspects of riding and horse-trekking in unspoiled natural surroundings, the department has 800 km of marked riding trails…
Ride over these secret and warm mountains so dear to Giono, discover the shepherd and his herd on a little path, take a Provencal pack-donkey to follow hikers, breathe in the scent of thyme and lavender, but don't forget that these riches are precious and fragile. Follow all the rules of prudence, courtesy and respect for others, your horse and nature.
Les itinéraires à thème
Ces circuits peuvent tous s'effectuer munis de cartes IGN en toute liberté de gîte en gîte ou accompagnés par des professionnels, que vous pouvez contacter pour l'organisation, l'encadrement et la prise en charge de votre séjour.
La Route Napoléon à cheval labellisée « Grand Itinéraire Équestre »
L'itinéraire de la Route Napoléon à cheval est un itinéraire de randonnée équestre long de 360 km de chemins balisés et aménagés pour les cavaliers, reliant Grasse (Alpes-Maritimes) à Vizille (Isère).
Ce Grand Itinéraire Equestre traverse 4 départements (Alpes Maritimes, Alpes de Haute-Provence, Hautes-Alpes, Isère).
Il est décrit dans un carto-guide et sur le site internet www.crte-de-provence.fr (in french)
L'itinéraire dans les Alpes de Haute-Provence, communes traversées : Peyroules, La Garde, Castellane*, Senez, Barrême*, Chaudon-Norante*, Entrages, Digne-les-Bains*, Le Chaffaut St Jurson, Mallemoisson, Mirabeau, Malijai*, L'Escale, Volonne*, Château-Arnoux St Auban, Aubignosc, Peipin, Salignac, Entrepierres, Sisteron*
* : points d'étape de Napoléon en mars 1815 pour dormir ou se restaurer
Comité régional de tourisme équestre Provence
: 
www.crte-de-provence.fr/mes-itineraires.html
(in french)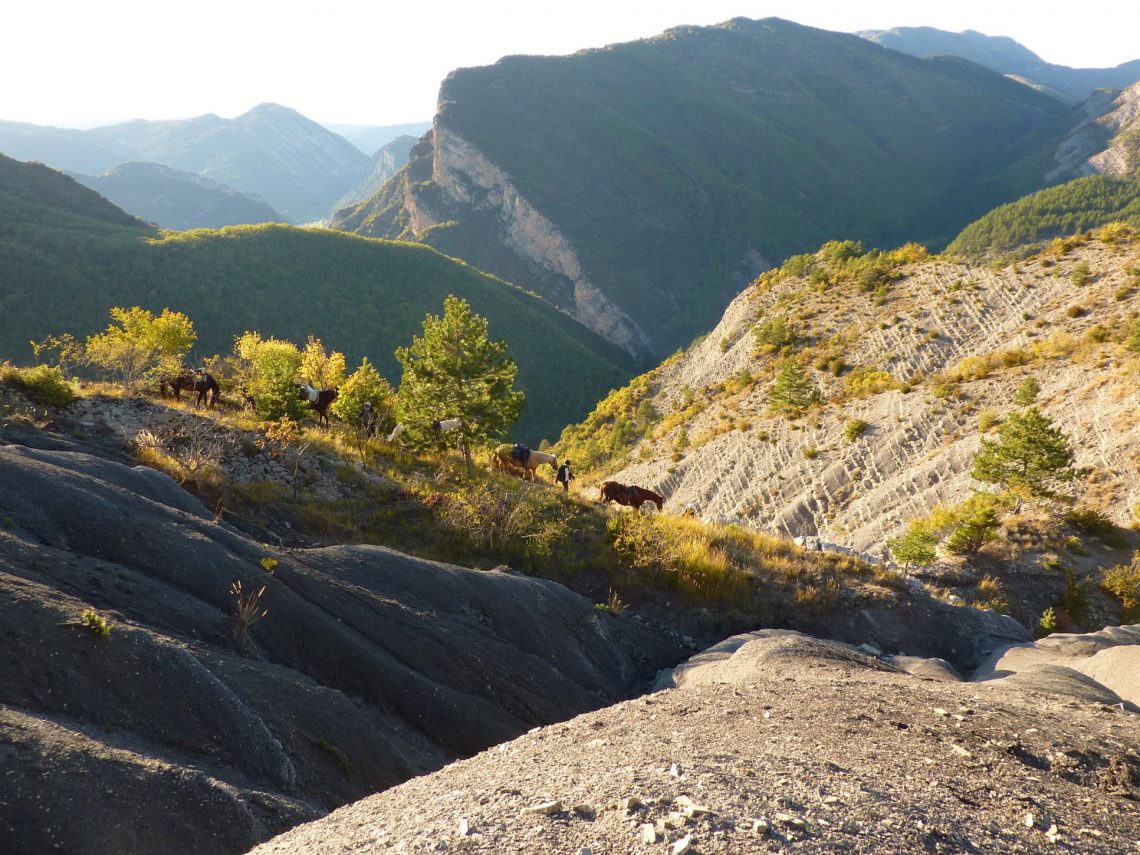 Rides in Haute-Provence Luberon
Riding itineraries in Haute-Provence, inspired by the novel by Jean Giono Le Hussard sur le Toit. On these itineraries, you will follow Angelo: Manosque, Forcalquier, la Montagne de Lure, etc. Vast unspoiled areas, dry-stone sheepfolds, fresh air…
The steps can be used for day trips.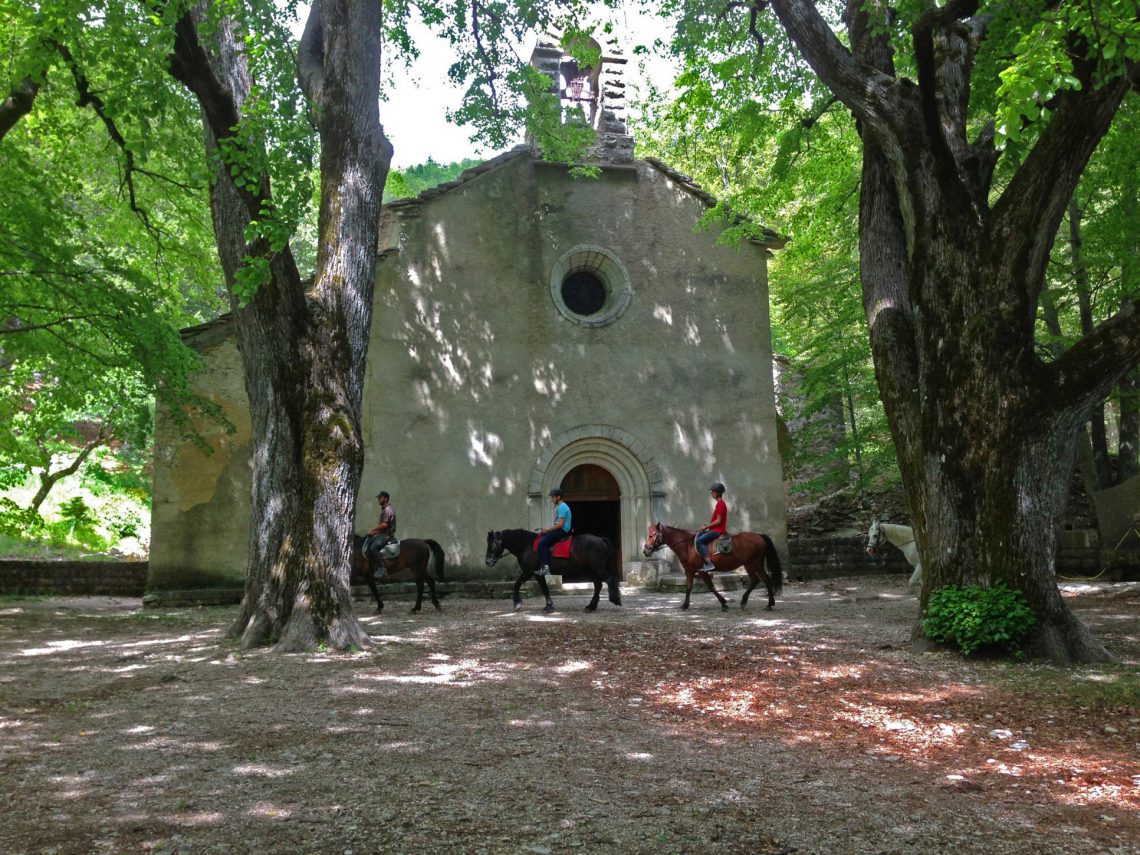 Boucle en attelage de Forcalquier à la Montagne de Lure
Découvrez tous les charmes de la Haute-Provence en attelage.
L'itinéraire emprunte des chemins balisés et de petites routes qui vous permettront de vous mener par des étapes de 4 heures par jour en moyenne avec des haltes dans des relais équestres. Vous pouvez moduler vos parcours et les ajuster à votre convenance de 3 à 5 jours.
L'originalité : sa diversité de paysages : on y croise entre autres des villages perchés et cités de caractères, cours d'eau et cascades, oliveraies et moulins à huile, champs d'épeautre et de lavande, bergeries et cabanes, la via Domitia et aussi tous nos producteurs locaux…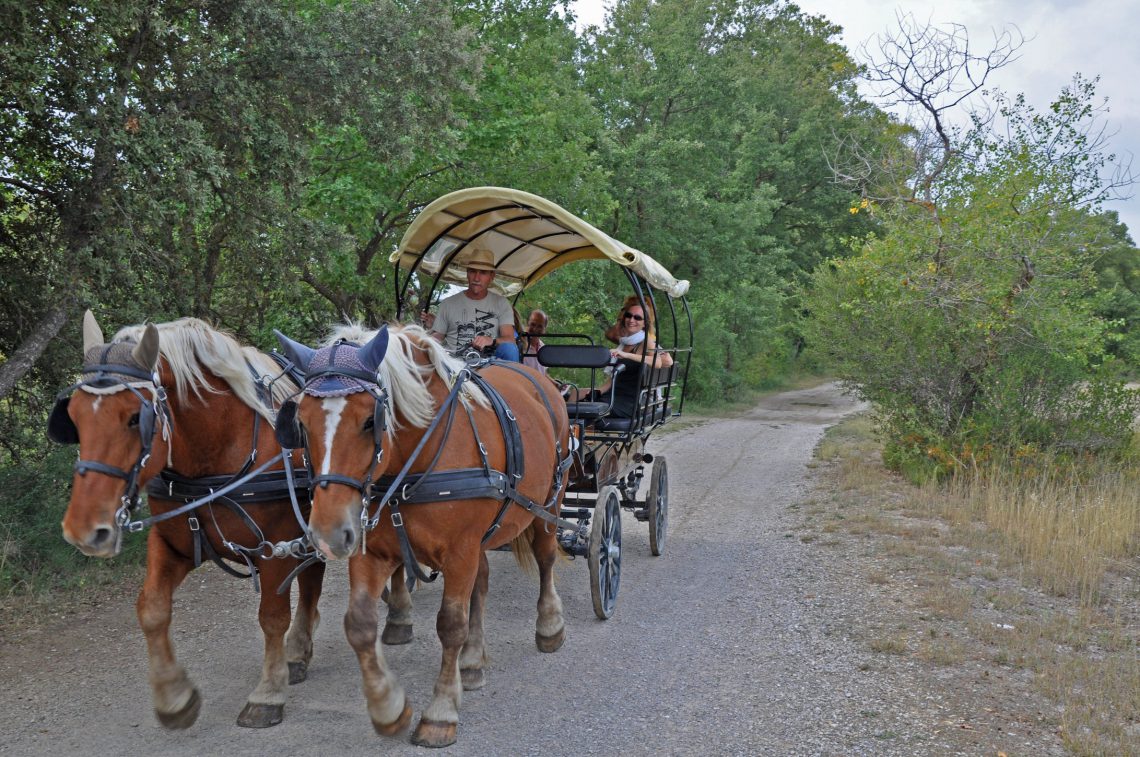 ---
Rides in Monges
Alpine pastures alternate with narrow, forgotten valleys, vastness and unforgettable views in the exceptional geographical location of the massif des Monges with its impressive almost uninhabited landscape.
A place outside time and ideal for experienced hikers and accompanied beginners.
At altitudes between 400 m and 2 115 m, its wildlife and heritage are as varied as its landscapes.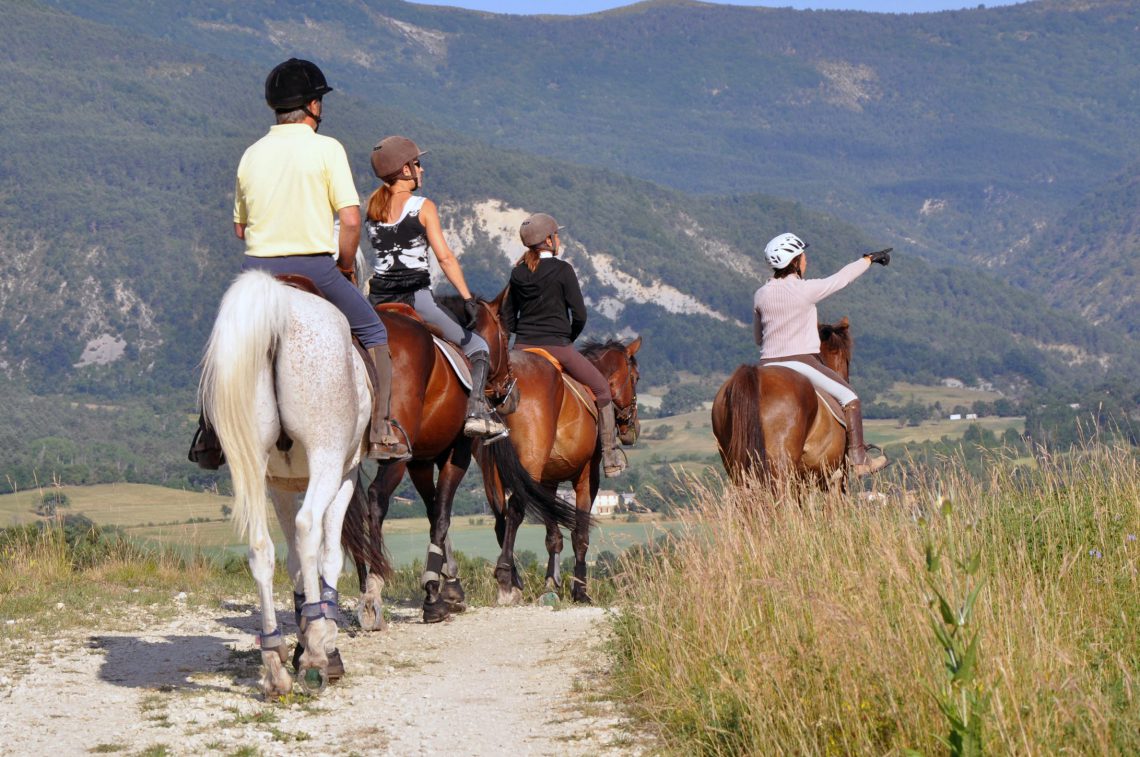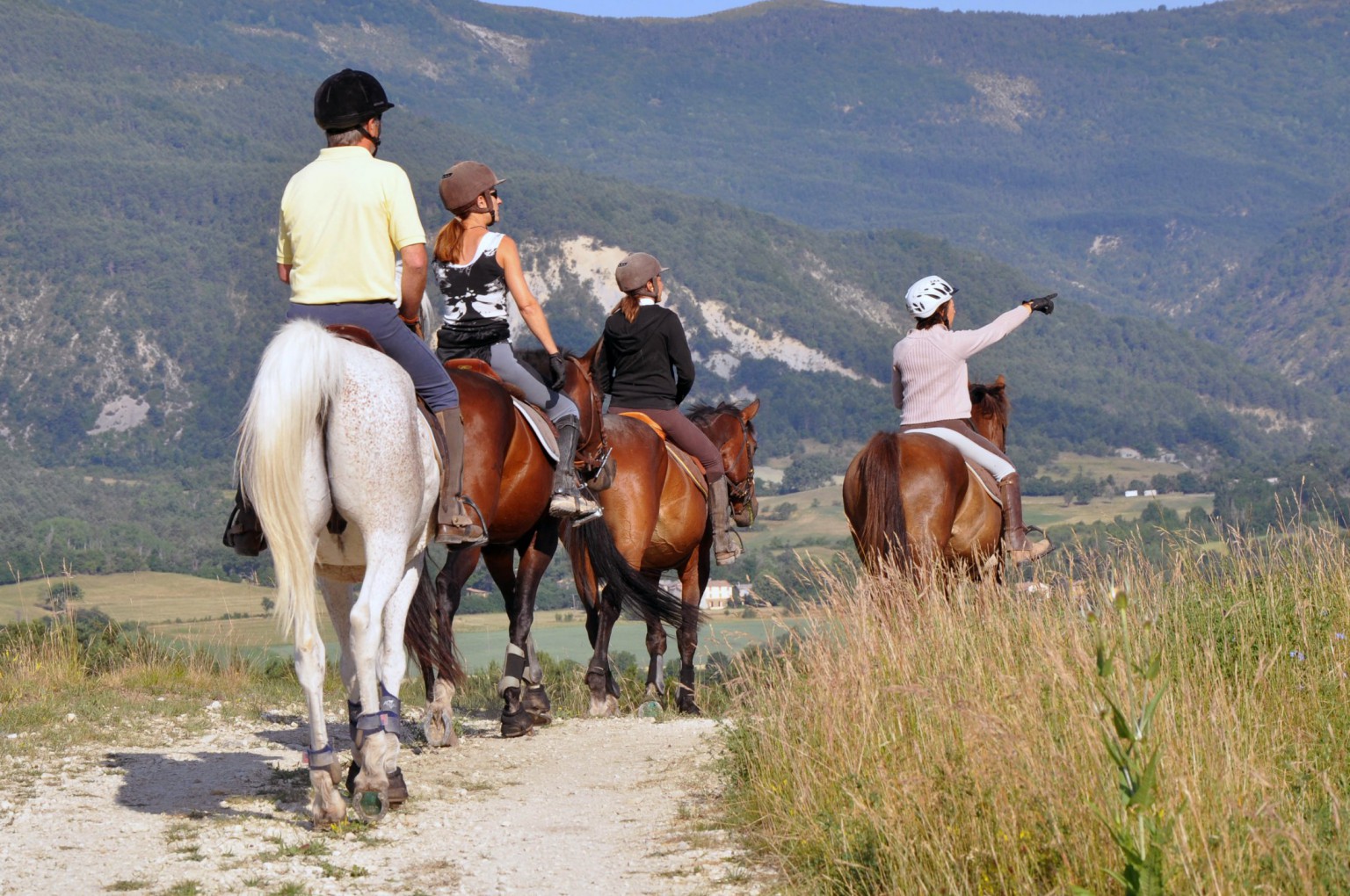 Rides in Verdon
Les «Tours du Verdon à cheval» est un maillage d'itinéraires équestres aménagés et balisés pour les cavaliers autour du plateau de Valensole, connu pour ses spectaculaires champs de lavande, des lacs bleu azur de Sainte Croix et du Verdon, des contreforts du massif du Montdenier, des gorges du Verdon, jusque Castellane située en amont du grand canyon.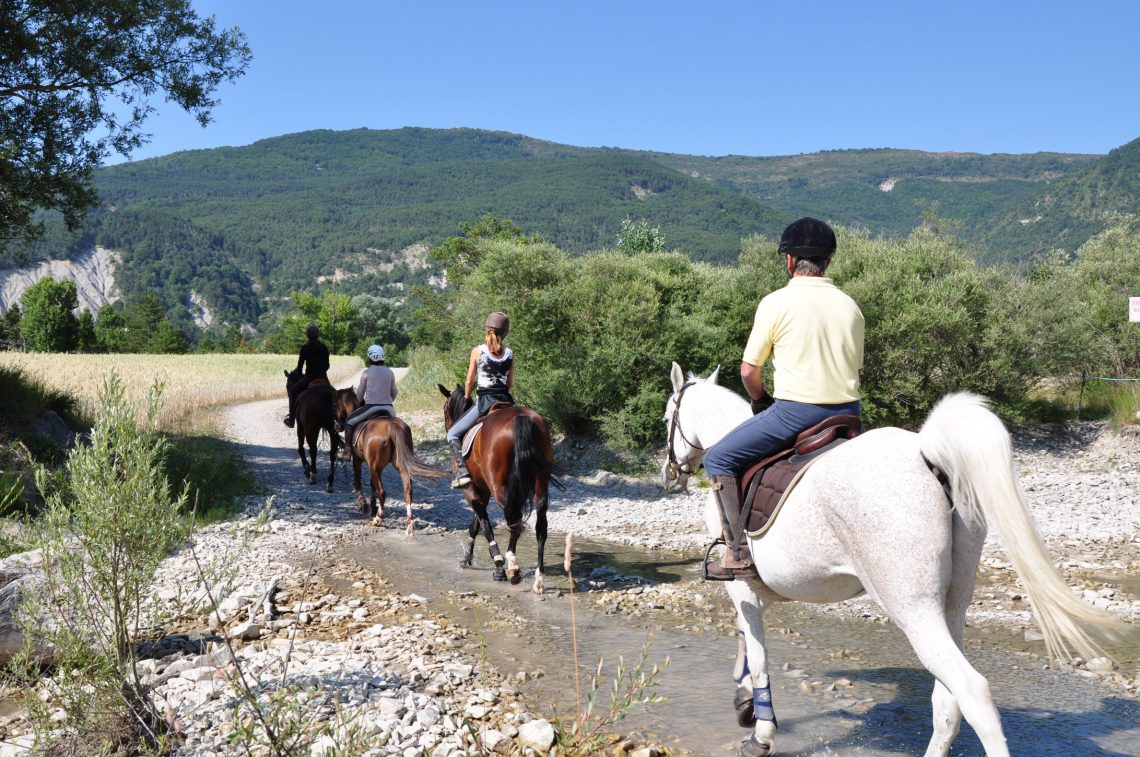 ---
Riding centres and riding tourism centres
Start the search using the search engine below
[ods-searchform id= »cheval »]
Comité régional de tourisme équestre Provence : www.crte-de-provence.fr (in french)
Advice to riders
Middle and high mountain itineraries mean being in good physical condition both for the horses and their riders. The itinerary goes from wide forest trails to mountain footpaths. However, most of the itinerary can be used all year round. Because of the altitude and snowfall, some sectors (between Thorame-Basse and la Foux d'Allos) cannot be used from November to May. Please remember that it is forbidden to enter the central zone of the Mercantour national Park. The itineraries are shown as an indication and are not complete and you must have IGN maps and stay on the marked trails.
Signaler un problème sur les sentiers de randonnée
Pour vous permettre de profiter au mieux des sentiers balisés et entretenus du département, nous vous demandons de signaler les anomalies constatées sur les itinéraires parcourus en utilisant le site internet national Suricate. (in french)