Vous découvrirez dans beaucoup de villages des ateliers de métiers d'art, l'artisanat de créateurs qui partagent avec vous leur passion.

Créateurs, artistes et artisans ancrés dans les traditions de Provence, les santons, la faïence de Moustiers, vous font partager leurs émotions et vous proposent des objets d'une grande diversité, de tous styles, pour toutes les bourses.
Les foires artisanales « Artisans sans vitrine »
La Chambre des métiers organise chaque année des foires artisanales sous l'appellation « Artisans sans vitrine » pour tous les produits de l'artisanat d'art ou par thèmes (cuir, poterie…).
Ces foires durent en principe une journée et leur organisation est confiée à un groupe de professionnels qui établit un calendrier annuel de plus de 70 manifestations entre avril et octobre.
Activités représentées : laine, tissage, textile, soie, chapeaux, cuir, peaux, bijoux, bois – sculpture, tournage, jouets, objets -, céramique, poterie, pierre, santons, crèches, fleurs séchées, métaux, etc.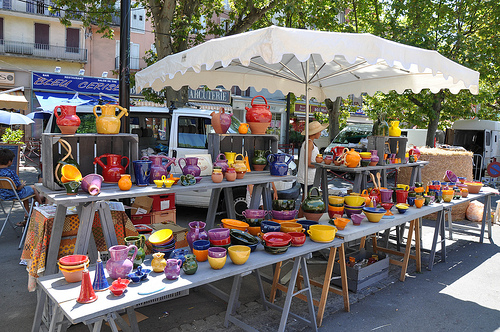 Les marchés « Saveurs des Alpes du Sud »
Une centaine de marchés « Saveurs des Alpes du Sud» est organisée chaque année dans les communes des Alpes du Sud.
Des artisans et des agriculteurs passionnés proposent leurs savoir-faire artisanal dans la convivialité de la vente directe. La qualité de leurs produits est fidèle aux traditions du terroir.
Chercher un artisan
To see the details of the sheet, please filter the search results or use the map.
Pour en savoir plus sur l'artisanat :